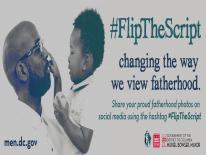 In partnership with the Office of the State Superintendent of Education (OSSE), #FlipTheScript is a positive visual campaign aimed to dispel the myth of the absent Black father, combat negative imagery of men of color that frequent the media, and highlight the role of fathers as it relates to early childhood development.
This initiative highlights positive imagery of Black and Hispanic fathers with their children on Metro stations, buses, and train cars, throughout the District as well as on social media platforms.
We encourage you to upload your proud "Daddy and Me" photos to social media using the hashtag #FlipTheScript.
The initiative partners with the following social media influencers to amplify this message:
The media over-represents the association between Black and Hispanic families and criminality while overwhelmingly depicting them as absent in the lives of their children, despite reports from the CDC proving otherwise.
This misrepresentation can reduce the self-esteem of boys of color, create stress, and aid in conditioning young men to model the stereotypical behavior depicted in the media. These inaccurate e portrayals reinforce implicit biases especially among viewers with less real-world experiences with Black and Hispanic men.
Studies have also shown the connection between fatherhood involvement as it relates to early childhood development. The role of fathers plays an essential role to early learning and OSSE's Division of Early Learning encourages father involvement to improve outcomes of children.
The Division of Early Learning (DEL) operates the programs listed below to improve outcomes for all children in the District of Columbia and to ensure they have access to a quality and equitable learning experience. DEL strives to provide supports and coordination to ensure that all children in the District, from birth to entrance in kindergarten, have access to high-quality early childhood development programs, and are well-prepared for school and life.